Our product fish
Our fish is purchased from the source globally. Due to our knowledge and expertise, we buy according to the seasons,
specific fishing fleet, fishing regions and certified fish auctions. This gives us the ability to supply high quality fresh fish to our customer.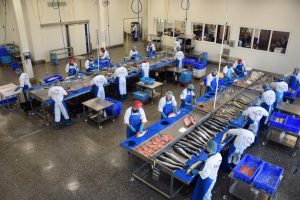 For processing we are using our newly build facility. Directly by arrival of the fresh fish, we filed and portion control the fish. Our highly skilled staff is trained internally to guarantee high standard quality
Fix Fisch strives constantly for improvement of quality, food safety, environmental management, working condition and follow the qualified HACCP regulation subscribed by the Dutch government included international health & food safety certificate IFS (International Featured Standards)
As customer
As customer you have access to one of the most modest seafood wholesale company in Europa. Our dynamic team will take care of all your special wishes. Quality and sustainability is the core of our organization
We gladly talk to our customer to determine the best solution to their specific needs on price, quality, profitability and sustainability. We will be delighted to help to create your menu and seasonal specials.
Fix Fisch has a "online order system" in cooperation with inONE, this makes it possible to order online at any convenient time. Our sales team wil gladly help you set up the online account. Don't hesitate to ask for information
We offer weekly special with quality products for the best price, using as a source of inspiration! Herring wagens, mussel pots, lobster tanks en decoration material are all part of our assortment.
On the road
To make sure the deliveries are reliable and fresh, we manage our delivery service in house. Our transport department has 9 fully refrigerated trucks, deliver 6 days a week
Even our delivery trucks are environmentally friendly, they are equipped with solar panels mounted on to the roof generating energy for the cooling units. We guarantee a temperature control delivery with a running engine.